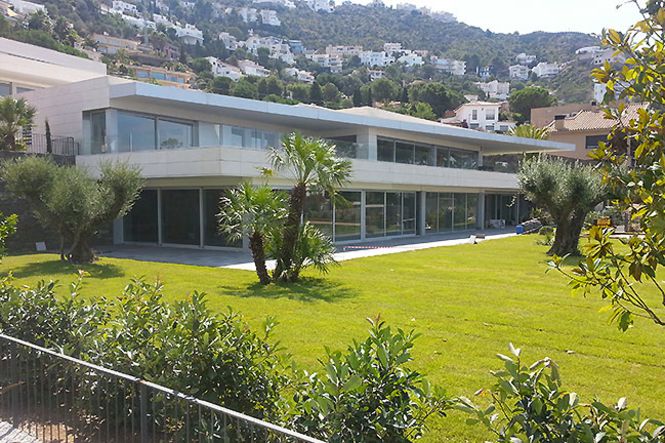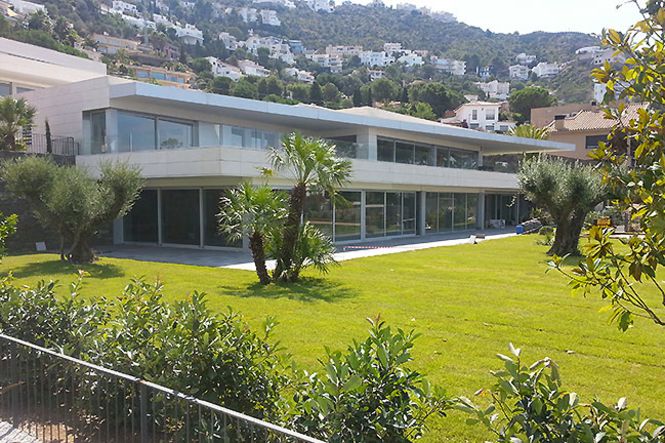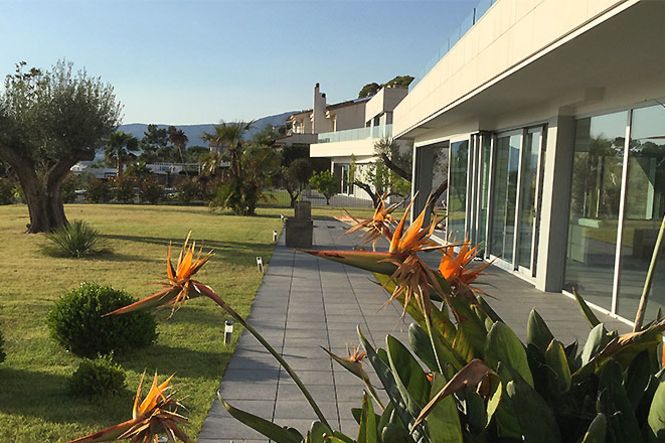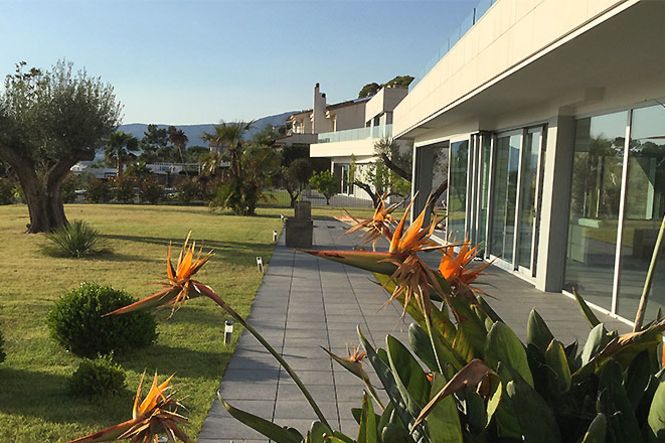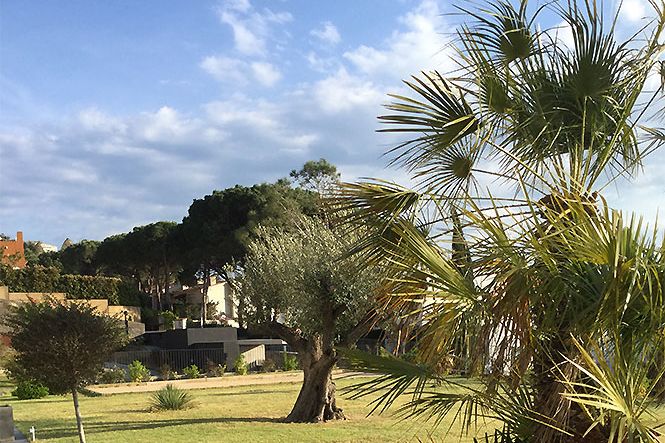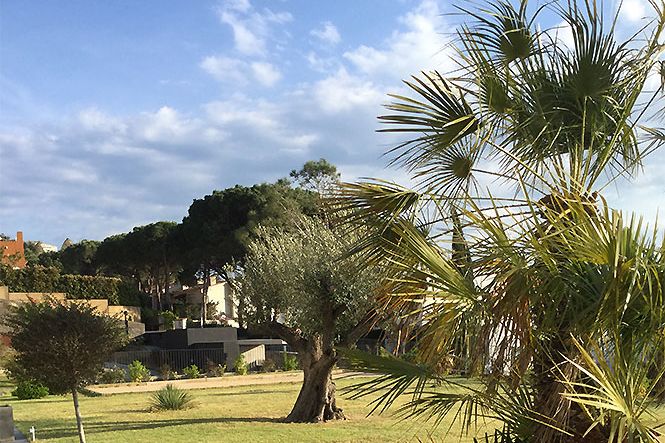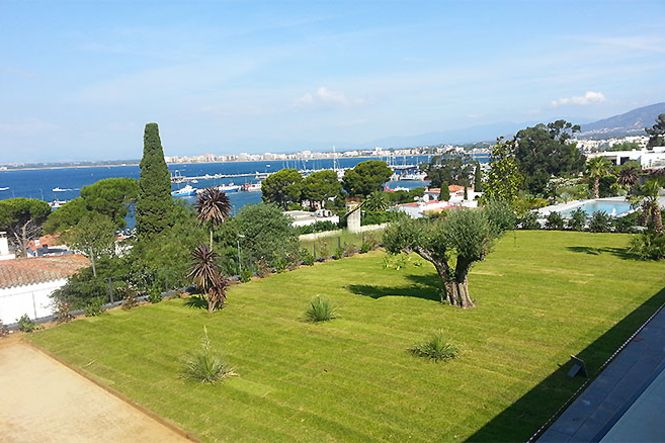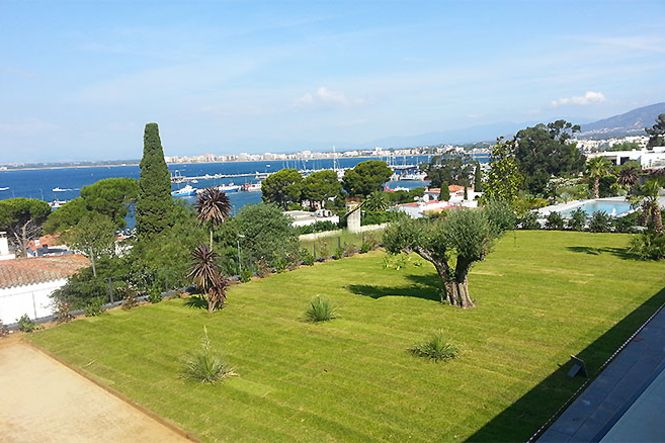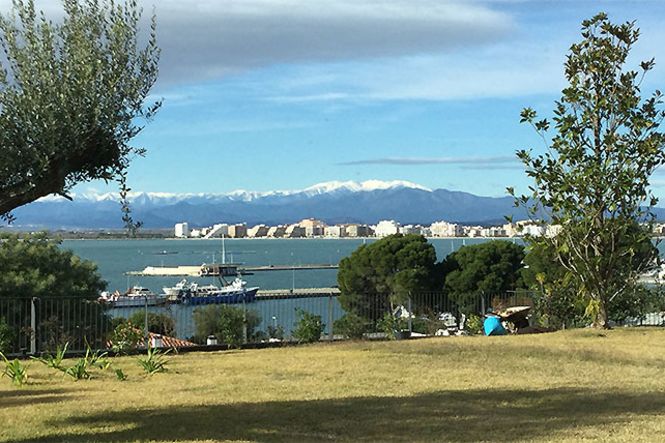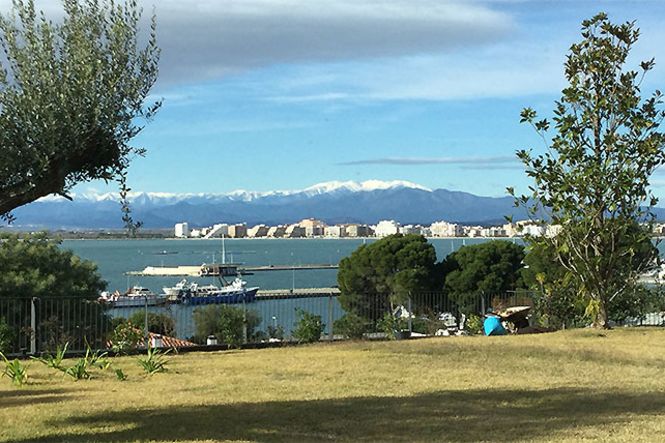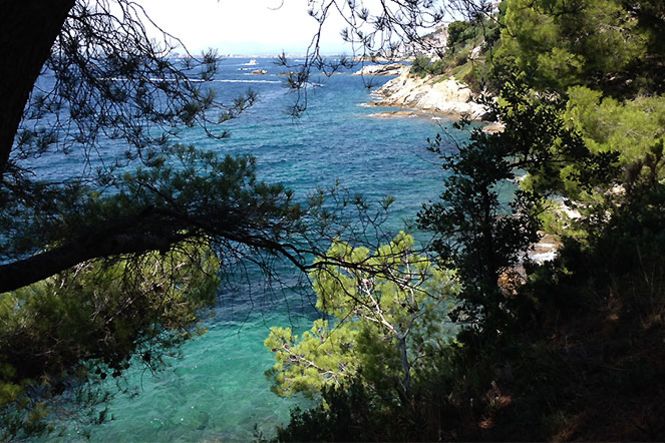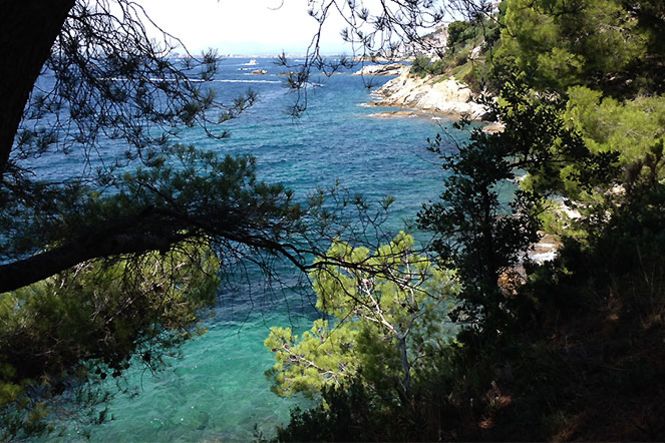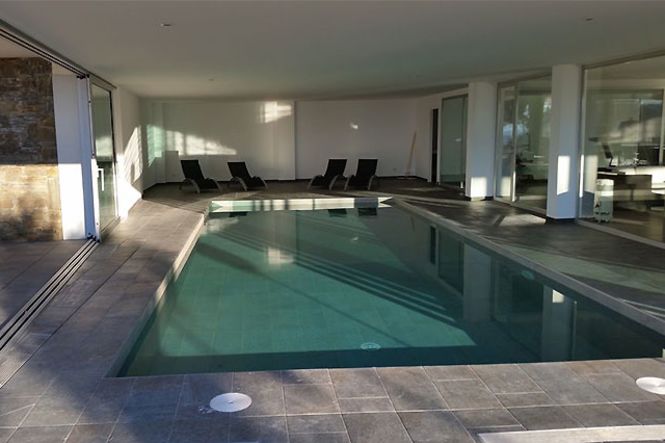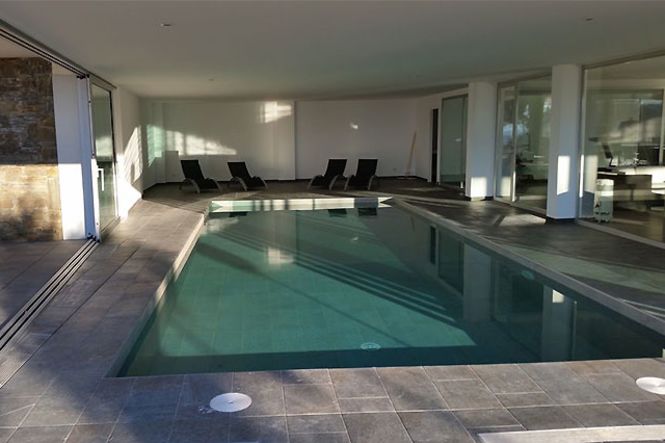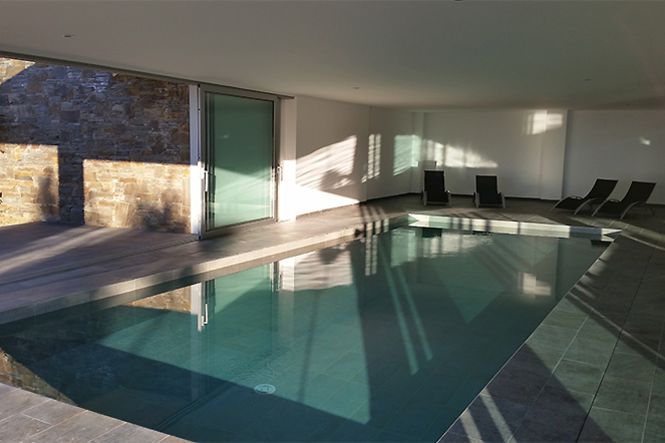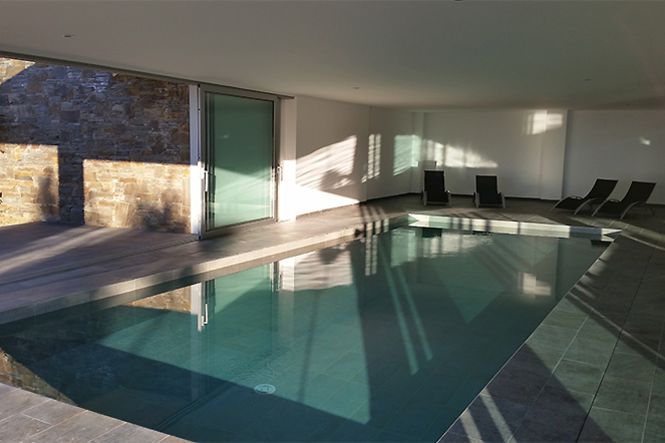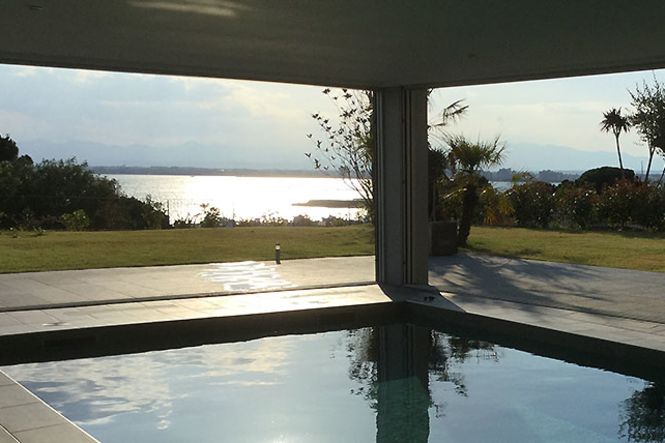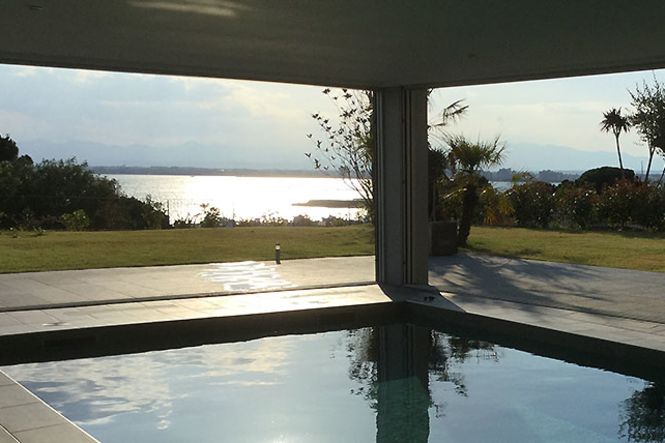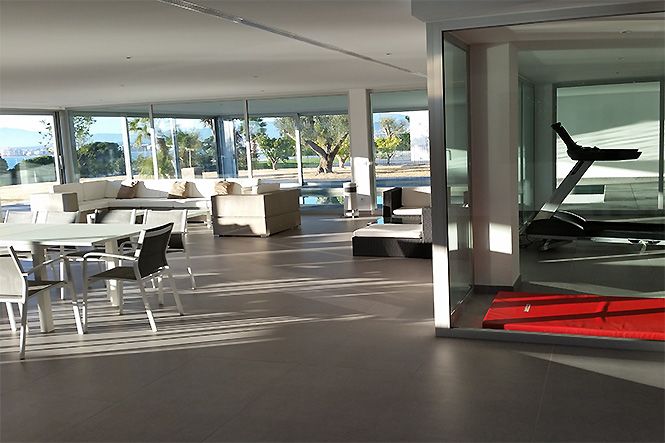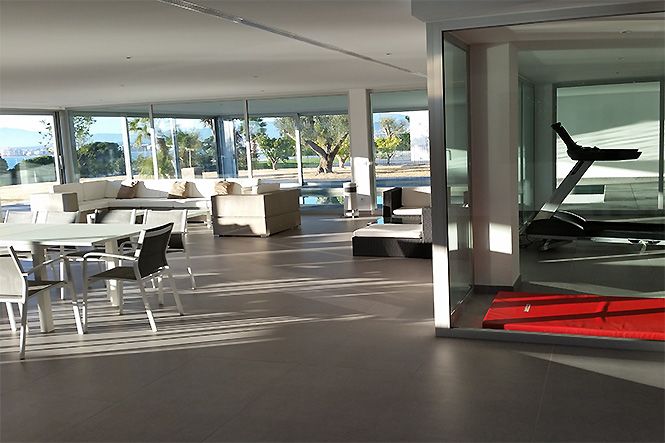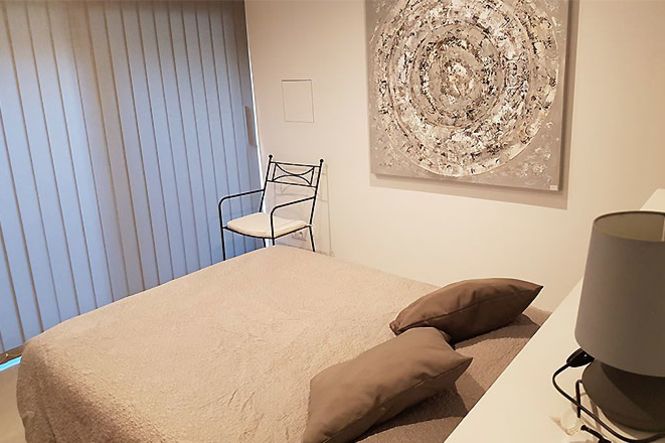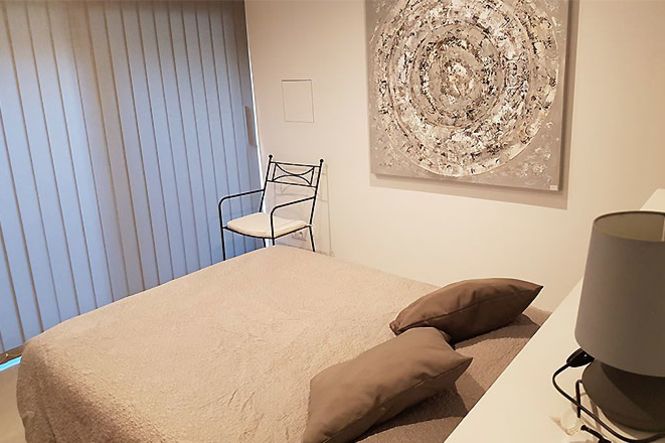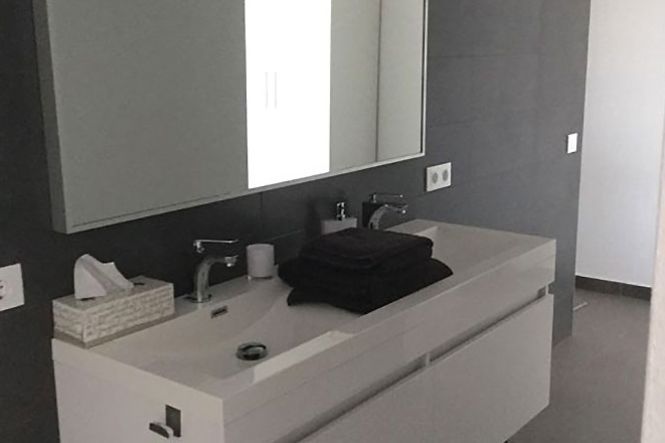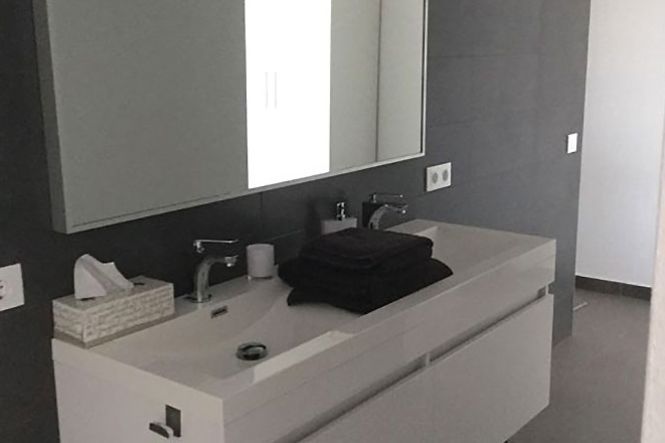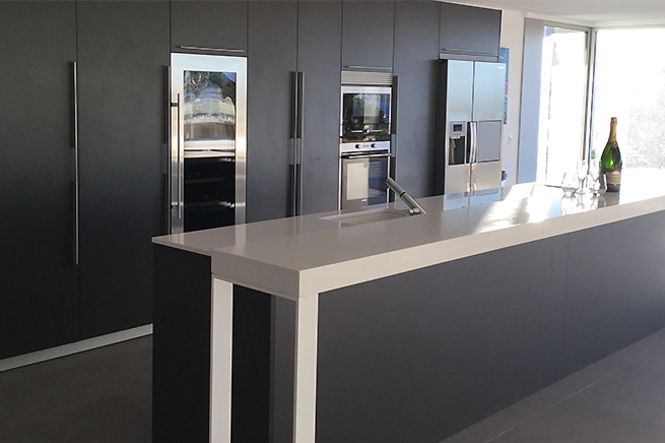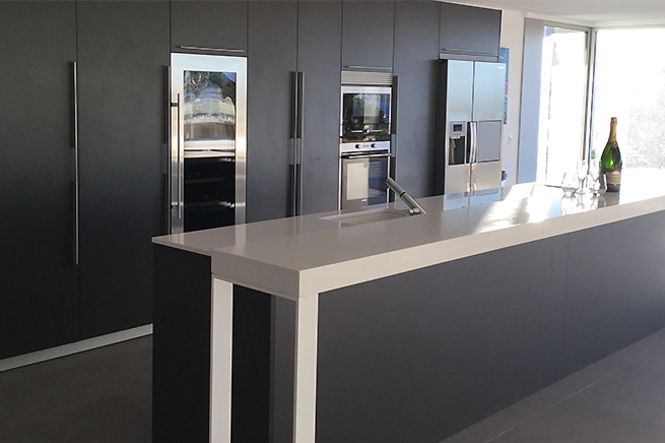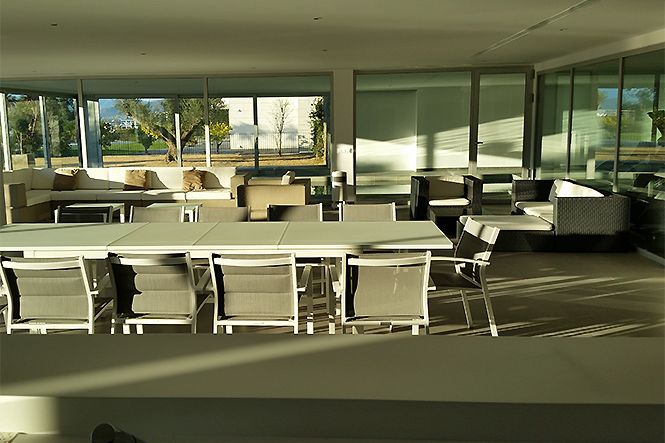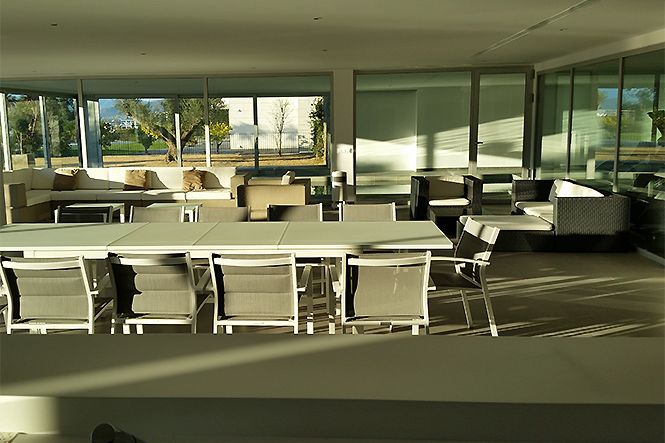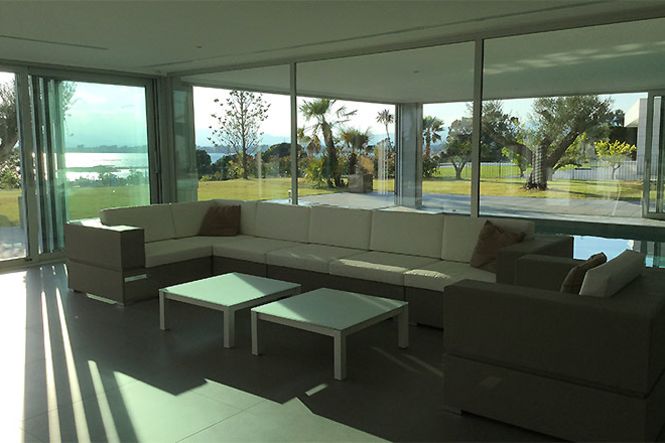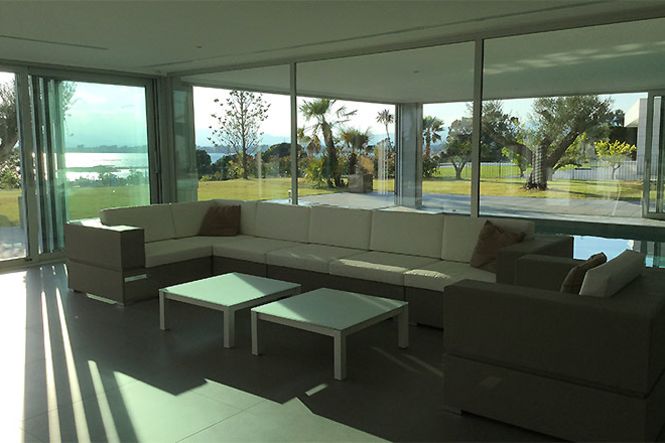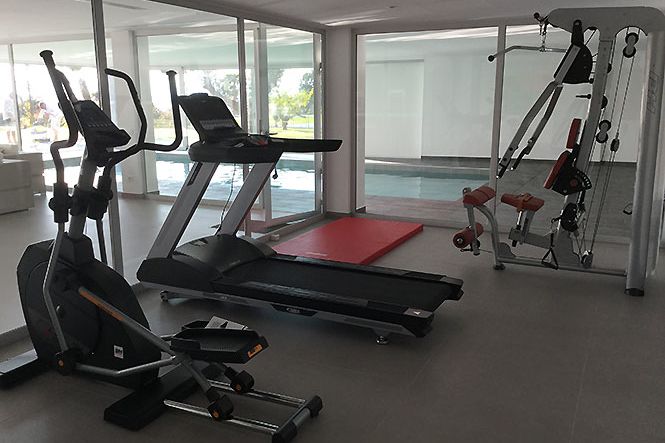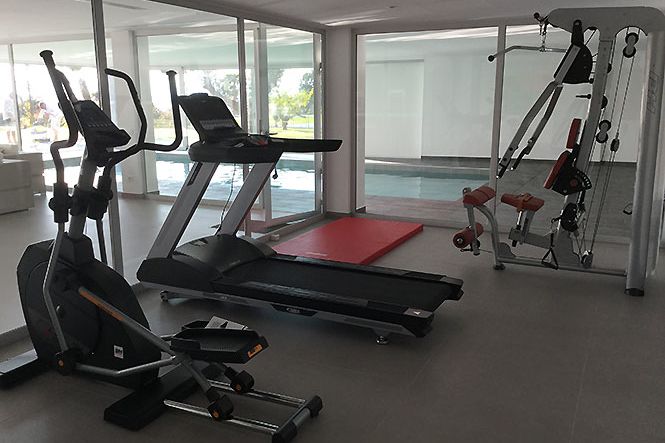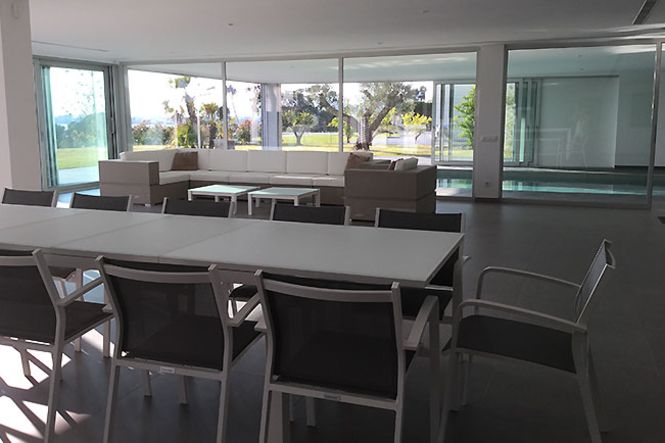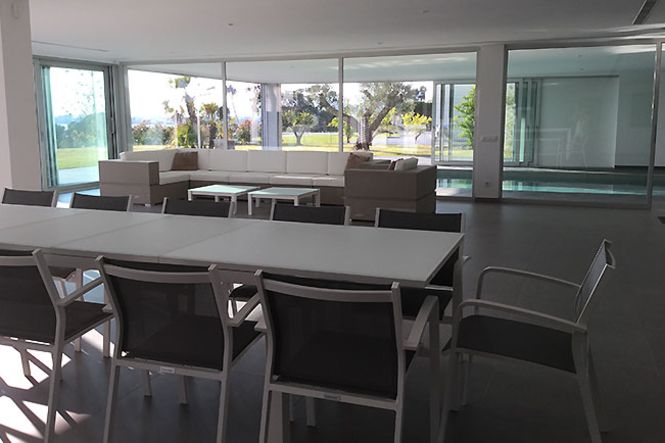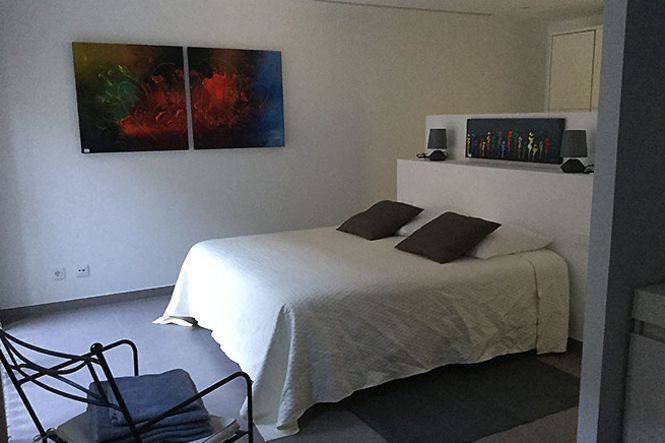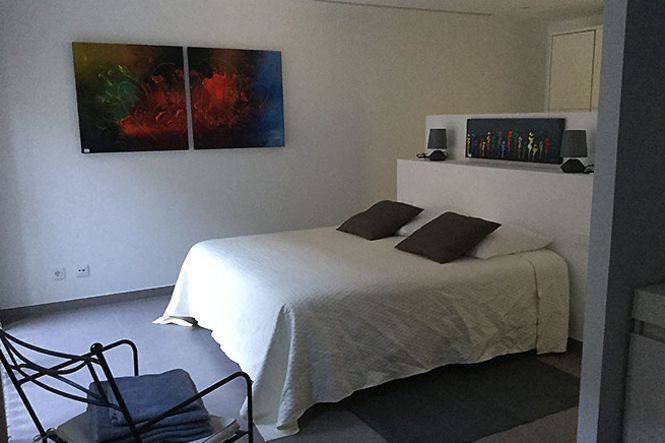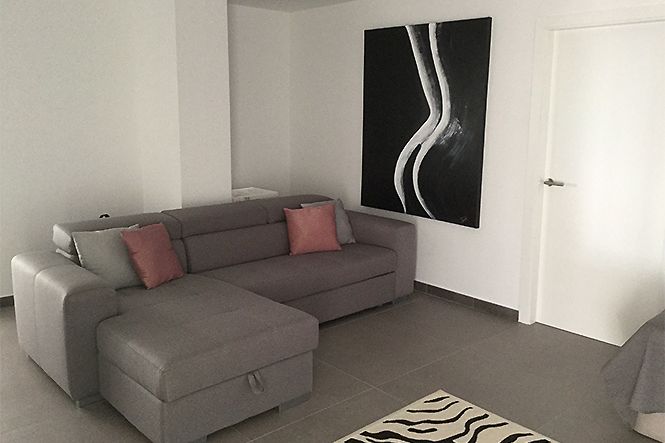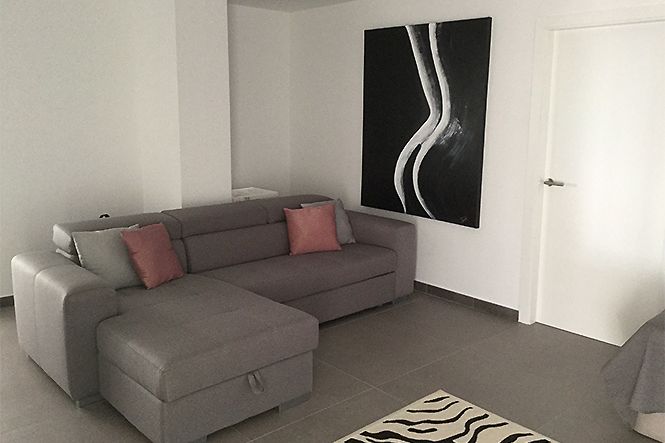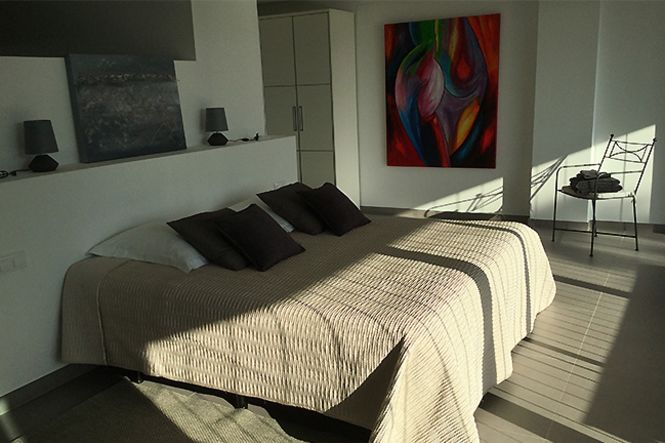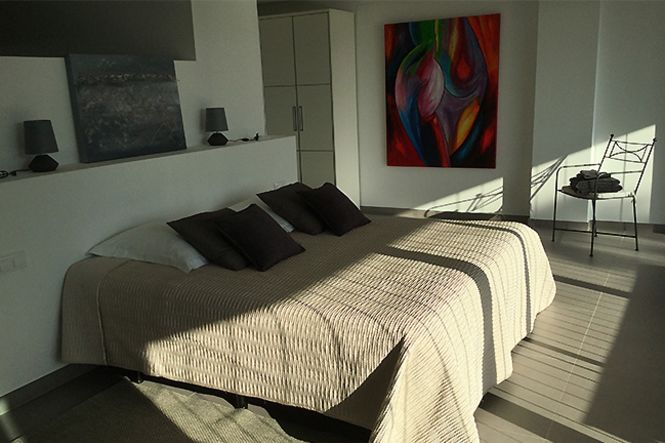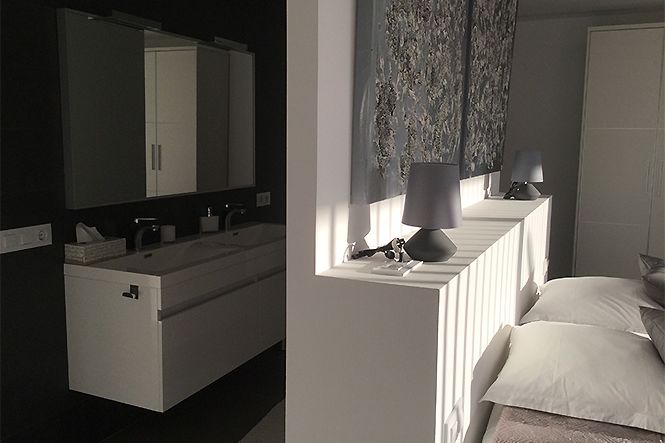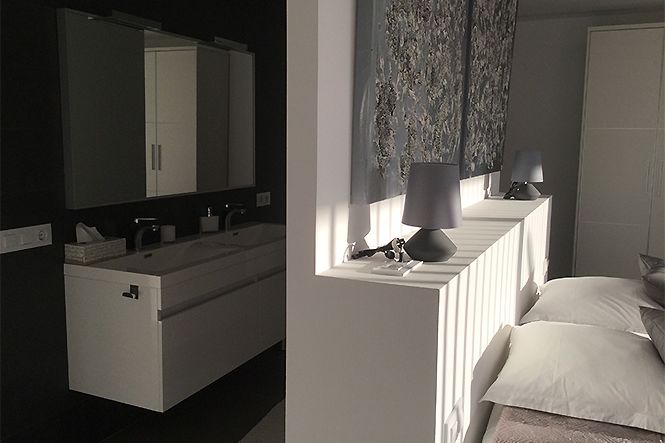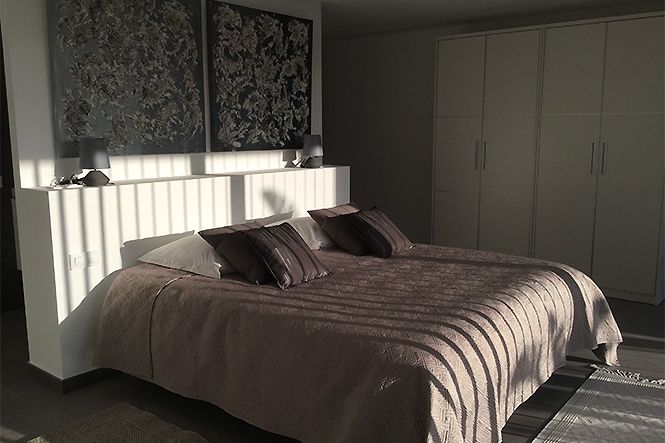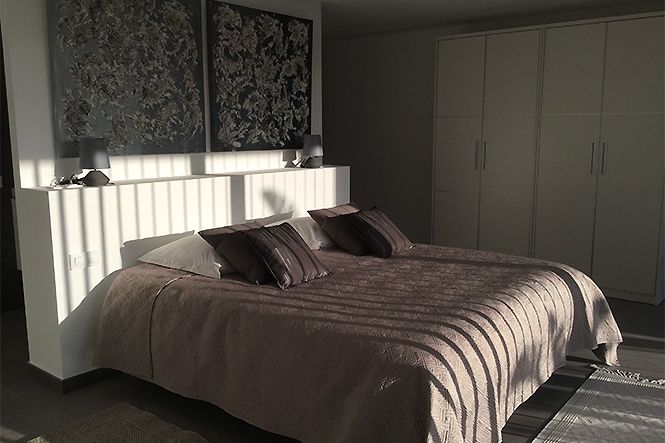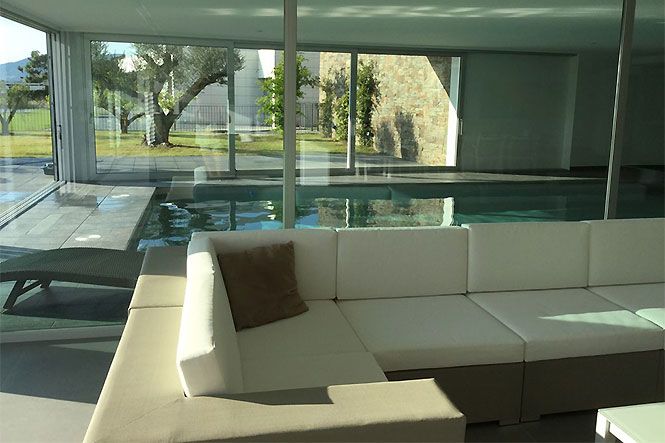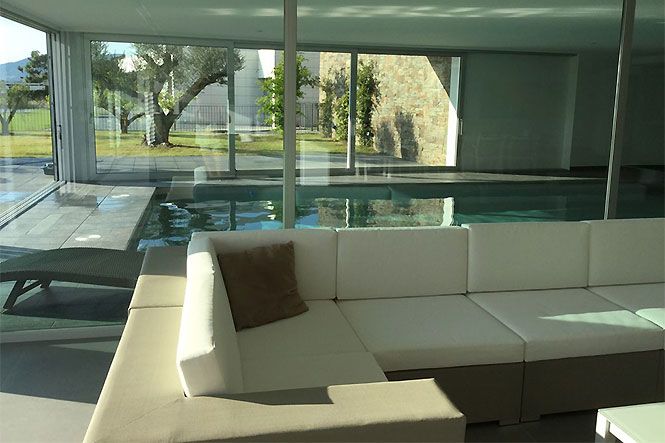 Layout
5 Bedrooms
Double bed(s)
7 Toilet(s)
6 bathroom(s)
1 Diningroom(s)
1 Livingroom(s)
1 Kitchen(s)
Features
Terrace
Parking
Pool
Concierge
Fitness
Seaside
Amenities
Air Conditioning
Bar
Non-Smoking Rooms
En suite rooms
Cable/Satellite TV
ADSL / WIFI
Fitness Facility
Child Friendly
Coffee/Tea Maker
Heating system
Flat Screen TV
Bedlinen & Towels
Dryer
Washing machine
Dishwasher
Barbecue
Hairdryer
Iron/ironing board
Parking space
Indoor Pool
Private Pool
Description
This modern villa Roses is situated within 150 m from the beach and 100 from marina offering different entertainment options. Benefiting from a covered swimming pool of 45 m2 with sliding door opening onto the garden, the luxury vacation rental is ideal for 8 adults and a child. There are five bedrooms and six bathrooms. Two bedrooms come with king-size beds, one has a queen bed and one more has a double bed. The fifth bedroom is outfitted with a sofa bed and could be used by a child or a teenager. Five bathrooms enjoy a WC and a shower, while the sixth one benefits from a WC and a bathtub. There is an additional guest WC. The holiday villa in Roses enjoys a spacious living room of 200 m2. It offers a sitting area, a dining area, a bar and a totally equipped kitchen. it is fitted with a fridge freezer, a coffee maker, a toaster, a cellar, an oven, a microwave, a dishwasher and an induction hob. There are utensils and tableware. The laundry facilites include a washing machine and a dryer, an iron and an ironing board. The villa enjoys a gym, a parking and has AC and heating. Outside, the there is a petanque field, a BBQ and a lounge area. Only the ground floor of the house is rented, the upper floor is locked for the use of the owner.
Rates & Polices
| From | To | Price per night | Price per week | Price per month |
| --- | --- | --- | --- | --- |
| 24 Jul 18 | 31 Jul 19 | 500€ | On Request | On Request |
Additional information
All taxes: All the taxes except for the tourist city tax os 1,5 EUR per person of 16 yo and over and night are included.
Rental fees: Water, electricity and Internet are included.
Weekly Cleaning: Midweek cleaning for stays of one week and over is included.
Final Cleaning: Final cleaning is included.
Miscellaneous: The rentable part of the house is located on the grond floor. The upper floor of the house is locked for the use of the owner.
Payment policy
In order to reserve the property you must pay a reservation deposit of 50% of the total payment, divided into 15% and 35%. One (1) month before arrival shall be paid the balance together with the Security Deposit. The Security Deposit will be wired back to you minus bank fees, should no damages occur to the property.
Cancellation policy
Cancellation more than 1 month before the arrival date: the reservation deposit is not refundable. Cancellation less than 1 month before the arrival date: 100% of the total rental price is not refundable.
Check in/out policy
Check-in after 16:00.
Check-out before 11:00.
Changeover day is Saturday.
Location:
Spain, Costa Brava - Roses
Close to Modern Villa Roses
Nearest Restaurant : 5 min walking
Cadaques : 30 min drive
Costa Brava Airport : 1 h drive
Marina : 2 min walking
Roses Center : 15 min walking
Grocery Shop : 3 min walking
Golf Platja de Pals : 1 h drive
Beach : 3 min walking
Barcelona : 2 h drive
France : 45 min drive
Concierge
Airport Transfer
A corporation, a business traveller and a leisure visitor demand a certain level of services that would satisfy their requirements in terms of comfort and exclusivity. Now you can have a vehicle that suits your requirements much better than before. Choose out of a wide range of services: from an airport/apartment/villa transfer or business meeting escort to a private city tour or a wedding escort. All the drivers are professional, experienced and speak different languages.
Domestic Services
Additional cleaning for the most exigent people that will allow you to keep your luxurious villa or apartment in an impeccable state without putting any effort, as our professional staff will take care of it. It s high time you relaxed and enjoyed your stay in Costa Brava.
Guided Tour & Wine Tasting
If you want to know the city really well, then a good tourist guide will be indispensable. The professional guides speaking several languages will help you to get closer to the culture, historiy, art and modern life of the City assisting you during a walking, chauffer-driven, and bicycle tours around Barcelona. Another great option is to taste delicate Spanish wines near the famous wineyards of Penedes and cava of Sant Sadurni d'Anoia.
Baby-Sitter & Baby Essential
For a relaxing trip, inquire for a professional nanny who will take care of your kids on Costa Brava. We also help you to rent all the needed equipment like travel and non-travel cots, boosters, walkie-talkie, stroller, bath ring and any other baby item.
Personal Chef
No matter whether you come to Costa Brava for a special occasion or just to spend your vacation, the services of a great chef will come in handy. Spanish, Italian, French, Japanese, Thai, Fusion...Just choose a cuisine type out of our almost unlimited list and enjoy your luxury trip and your delicious meal.
Golf-Course Access
Play on the best and most prestigious golf courses in Catalunya. Accessible both for experienced and unexperienced players, there are typical and short courses.
Personal Assistant
A professional personal assistant is a total must for a luxury trip. Don t think about any responsabilities and deeds that you have to do and just rely on our experienced staff, ready to make your trip careless.
Restaurant & Club Reservation
The most luxurious retaurants and clubs of Costa Brava will open their doors for you. Ask for a place you have been dreaming of visiting and we will get you the reservation or explain us what you are looking for, and we will find you the best place in the city.* * In some cases the service shall be inquired for no less than 30 days before arrival.The service is subject to the restaurants and clubs availability.
Yacht Charter
Make a short seatrip to Sitges, sail around Barcelona, explore Costa Brava or arrive at Balearic Isands on a luxury yacht with a skipper or without him during your holidays. Rent a small boat or a bigger yacht for all the company, sail away and have a delicious dinner onboard.
Private Jet
A private jet will get you to the destination in the shortest time possible. Enjoy unparalleled additional services such as catering suitable for any diet, massage and other care treatments and nanny services.
Event-Tickets Booking
Get the entrance tickets for any event taking place in Barcelona: conferences and lectures, museums, sightseeing spots and galleries, cinema and theatre, opera and dance performances, music festivals and design shows.
Spa & Care
The right time to take care of your body and mind is your vacation. Get a great exfoliation and follow with a relaxing or energizing massage with the use of aromatic oiles that will stretch your muscles and stimulates blood and lymph circulation. Try a sauna or hammam, go for the facial procedures and balance your energies.
Deep-Sea Fishing
Private fishing in the Mediterrenean sea with a boat. We will part from your requirements and will equip you with all the needed materials.
Air Excursion
Tailor-made, personal helicopter and balloon trips will allow you to look at Catalunya with a bird's-eye view and get an unforgettable experience in the air.
Language Courses
The most effective Spanish-language courses with the professioanl native speakers. Either individual or in groups, including the mini ones, the courses can be of any duration you may need.
Personal Shopper
If you like to have new things and want to look impeccable, but always hesitate and need assistance when shopping, then the service of our personal shopper is right what you seek. Exlore the best shops and boutiques of Barcelona and find the best pieces that would suit you ideally, following the advice of your personal shopper.
Excursions in Catalunya
Explore the surroundings of Barcelona and Costa Brava with a luxury excursion. Visit Sitges and it s great beaches, make a trip to the lands of Dali in Cadaques and his collection in Figueres, get to know Girona, discover the architecture of Besalu, swim in the best, crystal-clear waters in Tamariu. There is a lot to see.